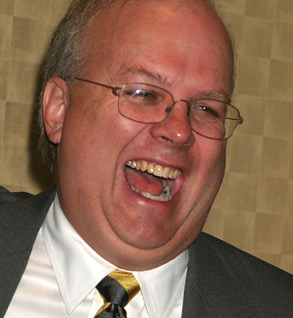 Karl Rove (nee Roverer) dual German citizenship (the better to slip away in the night), grandson of the man who designed the Birkenau section of Auschwitz -- the section with the gas chambers and the ovens -- the man his boss calls "turd-blossom," laughing at you and me, absolutely certain there will NEVER be justice meted out to him for his slanders, libels, murders, and other crimes. Laugh while you can, Karl, laugh while you still can. Time changes things.
Perhaps it's once again time to remind yet another arrogant bullying hateful asshole of the immutable law of the universe:
BE CAREFUL THE ASSES YOU KICK ON THE WAY UP -- THEY'RE THE SAME ONES YOU HAVE TO KISS ON THE WAY DOWN.
So pucker up you disgusting piece of perverted protoplasm -- smoochin' time is right around the corner.
|