Great idealistic TV commercial tag line for Siemens Electric
"...and 10,000 people at Siemens are ready to do it again."
Hmmm... and I hear echoes every time they say it, every time they talk about how they've made cities into ideal places for people to live... and I think "Like at Ravensbruck?"
Preceding World War II, Siemens was involved in funding the rise of the Nazi Party and the secret rearmament of Germany. During the second World War, Siemens supported the Hitler regime, contributed to the war effort and participated in the "Nazification" of the economy. Siemens had many factories in and around notorious concentration camps

[

8

]

[

9

]

to build electric switches for military uses.

[

10

]

In one example, almost 100,000 men and women from Auschwitz worked in a Siemens factory inside the camp, supplying the electricity to the camp....
The major private firm that used slave labor at Ravensbrück was the Siemens Electric Company, today the second largest electric company in the world. In a separate camp adjoining the main one, Siemens "employed" the women to make electrical components for V-1 and V-2 rockets...
--Sorry -- there's no reason in the world these people and this corporation should be allowed to exist .. in Frederick Forsyth's 1972 novel:
The Odessa File
, the former SS Officer whose war crimes included murdering the protagonist's father -- a decorated German officer -- the criminal worked for a mythically-named electric company, but the name used in the book: Eduard Roschmann was the true name of a war criminal who was an executive at Siemens until the book exposed him.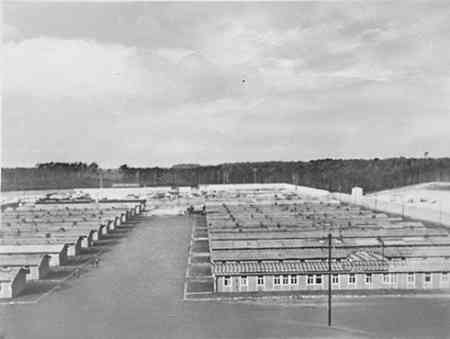 ---
Ravensbrück was a concentration camp for women, which had 34 satellite divisions. Located alongside Lake Schwedt, about 50 miles north of Berlin, Ravensbrück opened on May 15, 1939, and, three days later, the first group of 867 women arrived from Lichtenburg in Saxony, a fortress that had been used as a women's camp from March 1938 until May 1939. The first prisoners were mostly of German anti-fascists, either Social Democrats or Communists — some coincidentally Jewish, and Jehovah's Witnesses. A high wall with electrified barbed wire enclosed the women in the camp...

Ravensbrück housed Jews, Gypsies, Poles, Russians, Ukrainians, Germans and prisoners of other nationalities. Designed to accommodate 6,000 prisoners, the number of inmates grew from 2,000 in 1939 to 10,800 in 1942. Between May 1939 and June 1944, an estimated 43,000 women were brought to Ravensbrück. During the next nine months, an estimated 90,000 more came...
Slave Labor
The major private firm that used slave labor at Ravensbrück was the Siemens Electric Company, today the second largest electric company in the world. In a separate camp adjoining the main one, Siemens "employed" the women to make electrical components for V-1 and V-2 rockets...
Human Statistics
Exact statistics are impossible to obtain, because the Nazis burned many records before they fled. The camp memorial's estimated figure of 132,000 includes about 48,500 Polish women, the largest national group imprisoned in the camp. There were 28,000 women from the Soviet Union, almost 24,000 from Germany and Austria, nearly 8,000 French women, and thousands from other countries in Europe. There were even British and American women imprisoned at the camp. While no exact records are available, an estimated twenty percent of the total population was Jewish — more than 20,000 women.
Medical Experiments
Beginning in 1942, medical experiments were performed on the inmates; some women were infected with gas gangrene or bacterial inflammations, while others were forced to receive bone transplants and bone amputations. Other experiments involved sulfonamide and sterilization techniques. Pregnant Jewish women were sent to the gas chambers, while abortions were performed on non-Jews. The most infamous experiments used Polish women as "guinea pigs" to simulate battlefield leg wounds of German soldiers. Most of these women died or were murdered afterward, and those who survived were crippled and disfigured. .

Read the entire article that discusses slave labor, medical experiments, gas chambers, etc...
**********
Tuesday, December 16, 2008

A Little Reality
If ever there was a company that deserves to be shut down forever it is Siemens AG.
Nazi Favorites
Siemens AG manufactured many of the items used by the Nazis to kill. They made great profit from this by using slave labor from concentration camps, most notoriously at the
Ravensbruck Concentration Camp
. Slaves would build electric switches for Siemens manufactured V-2 rockets in the morning and be
murdered in Siemens-built gas chambers in the afternoon
....
Heartless Marketers
In 2002 Siemens wanted to build gas ovens for the home using the trademark name
Zyklon
. That just happens also to be the name of the poison used in concentration camp gas chambers. Siemens continues to use that horrid name to market a line of vacuum cleaners in Germany.
Bribers Extraordinaire
As if to prove that time has not diminished Siemens AG's skill in immoral enterprises, it has engaged in a wide spread enterprise of bribery. This has led to the largest ever fine, $1.6 billion. Yet, the truth is that Siemens is getting off easy. The fine is small enough that Siemens has still made a good profit from their illegal activities. Also, they get to keep all of their government contracts and retain the right to go after still more government contracts. If Siemens has learned any lesson at all it is to disguise their bribery better.
*********
I'm sure we should all be delighted that Siemens has come to America to improve the quality of life in our cities.
|